Toyota of Seattle Service Center
The Toyota of Seattle Service Center Promise
Toyota of Seattle is committed to providing the care and expert service that our guests come to trust. Our Toyota-trained technicians have spent thousands of hours understanding each and every Toyota vehicle and use only Genuine Toyota parts to service and repair your Toyota. Come see for yourself how our team of experts help keep your Toyota a Toyota. Toyota of Seattle is conveniently located in Seattle. Toyota of Seattle has expert technicians on staff to handle your repair needs or oil changes, tire rotations, battery replacement, brake repairs and all other Toyota Factory Scheduled Maintenance.
Own a Scion? Your Scion will receive proper care by trained technicians using Genuine Toyota Parts.
Toyota of Seattle Service:
206.382.4300
1925 Airport Way South
Seattle, WA 98134
Get Directions
Service Hours:
Mon-Fri: 7:00am - 7:00pm
Saturday: 7:00 a.m. - 6:00 p.m.
Sun (Express Only): 10:00am - 5:00pm
Why Service at a Toyota Service Center?
Helpful Links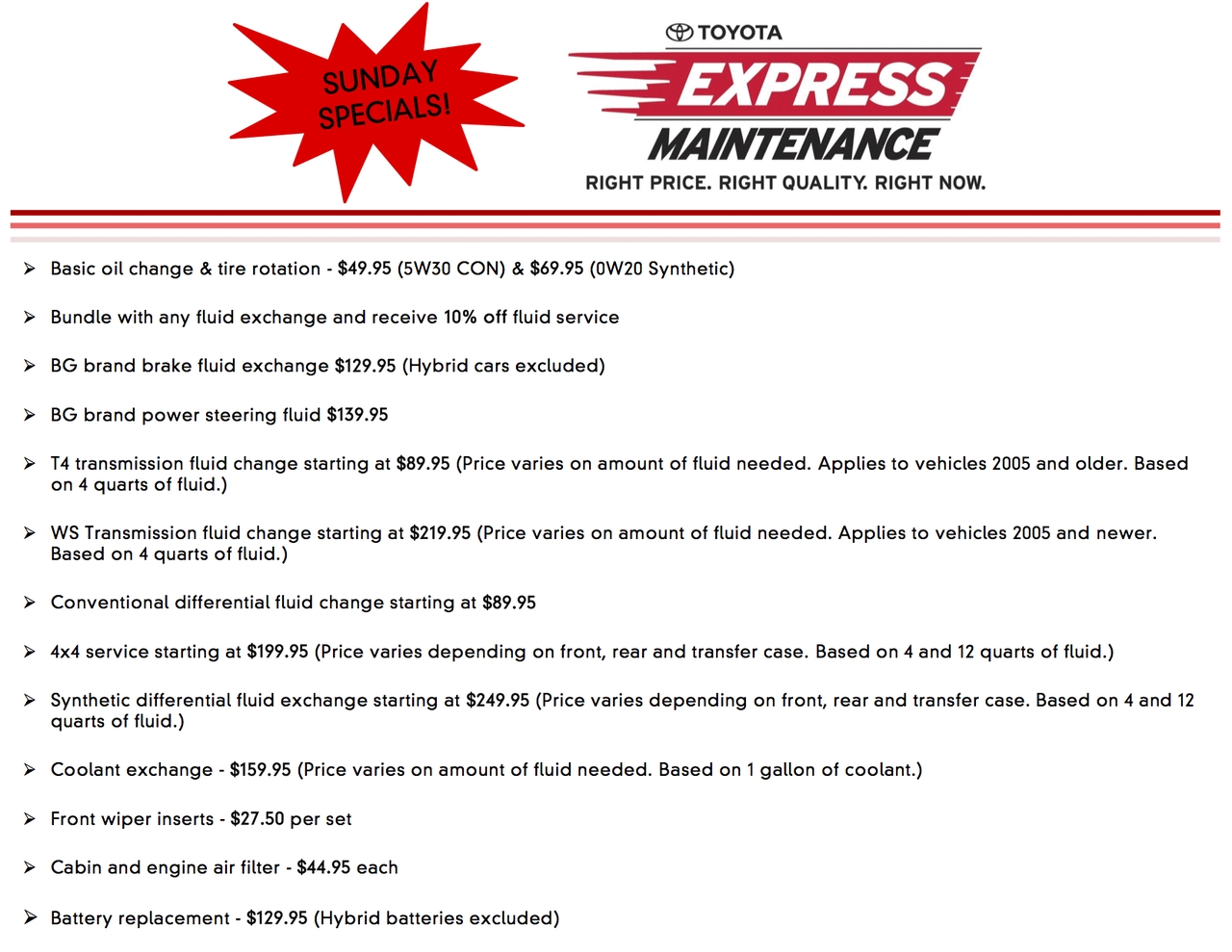 Toyota of Seattle Service Department
Toyota of Seattle's service advisors and Toyota-trained technicians go above and beyond to provide the professional care you need. 
We offer several amenities to make your appointment as easy and comfortable as possible.
Courtesy Shuttle (Monday-Sunday)
Drop-off and Pickup Service
Convenient access to Bus, Light-rail and Train routes
Pet Friendly Atmosphere
Free Wi-Fi
Complimentary Coffee and Tea
Convenient SODO Location
Schedule your service appointment online today. It's easy, fast, and secure!
---
Did You Know?
You can bring almost any car to the Toyota of Seattle service department, not just Toyotas. We can service most vehicle makes and models.
Even if you didn't buy your vehicle from us, we can still perform your Toyota warranty services here. We are Toyota-certified to perform warranty services on any Toyota.
---
How To Winterize Your Car
Climate changes don't affect just you?they also affect your car. In regions that don't enjoy mild winters, you wouldn't dream of heading outside without a heavy coat if the wind chill brought the temperature below freezing. Don't expect your car to function properly without some attention to its winter needs, too.
Engine Oil in the Winter - The oil in your engine changes depending on how hot or cold the engine is running. Because the outside temperatures will influence the internal temperature of your engine, you need to make sure you're using the proper oil for the conditions.During the winter months, if you live where temperatures get below freezing, you'll want to switch over to thinner?less viscous?oil. If you run a 10W-30 in the summer, for example, try moving to a 5W-30 when changing your oil in the fall or winter. If you are in doubt, refer to your manual or the manufacturer.

Engine Coolant - You car's coolant system is not intended only to keep your engine from overheating. It is also responsible for protecting your valuable engine against corrosion. Before the weather gets too cold, make sure you are using coolant with ethylene glycol to help protect your engine.Every vehicle requires a certain ratio of coolant to water, and your owner's manual or repair technician can explain what your engine needs. For most vehicles, a winter ratio is 60% coolant to 40% water. Adjusting this ratio is an important step in winterizing your car, so if you need help, ask someone who is experienced and knowledgeable.Additionally, some engines can only take specific types of coolant. Be sure to check with you vehicle manual to make sure you are putting the right type of coolant into your car.

Cold Weather and Battery Capacity - It isn't only your engine that doesn't like to start in the winter. Your battery capacity is reduced by the cold weather, too. A thorough inspection of your battery, cables, terminals, and fluid will help you make sure your car is ready for the winter.Check over the battery cables for cracks and breaks. The terminals should fit snugly with no loose connections. You can check your battery fluid by uncovering the refill hole (or sometimes holes). If the level is below the bottom of the cap, refill with distilled water.To read the level of charge in your battery, you will need to turn the engine off. Some batteries have a built-in hydrometer eye that tells you the amount of voltage remaining in the battery. If you prefer, a handheld hydrometer can be used to collect the same information.While you're inspecting your battery, look around for the manufacture date. Knowing how old your battery is can clue you in to when it will begin to lose charge. Shopping for a new battery? Never buy one with a six-month-old manufacture date.

Snow Tires - When it comes to really dealing with winter weather, your tires are out there mixing with the snow, sleet, and ice. Driving in snow can be very difficult and sometimes dangerous; still, the reality is you need to get to work.Mounting the right tires on your car or truck can give you a huge advantage when trekking through snow. Many car makers and tire manufacturers recommend changing all four tires to snow tires in the winter. If you don't swap all four, the difference between snow and summer tires can cause other problems for your vehicle.If you live off the beaten path, you can even buy snow tires with studs to help you get where you're going all winter long. When spring comes, though, you'll be glad to get out of the heavy winter tires because your fuel efficiency and handling will improve with a less aggressive tire.Another option is all-season tires that you drive year-round?winter and summer. The advantage of all-season tires is that you don't change the tires before winter or need to keep two sets of rims. Of course, the disadvantage is that you don't get all the great features of a specialized seasonal tire.

Windshield Treatment - An easily overlooked part of your winterizing program is your windshield. If you have ever driven behind another vehicle kicking up wet, dirty road snow, then you already have a true appreciation for windshield washer fluid.For best results in clearing off cold, heavy grime, select a washer fluid with an antifreeze solution. But beware?some washer fluids can be harsh and damage your car's paint.

Frozen Out - Door locks can freeze in cold weather and break your key if you try to force them open. The old fashion cure was warm water, but what if you're not at home and don't have any warm water nearby? Discount stores, auto parts stores, and even hardware stores sell glycerine you can use for de-icing. Think about where you keep it, however, because if the de-icer is in the glove box of your frozen-shut car, then it won't help you any.Stock a tube at home in the garage and also in your desk at work. That way whenever your locks freeze up, you'll be able to solve the problem.
When you take the time to winterize your car, you become more comfortable driving in cold, snowy climates. A short commute quickly becomes difficult when your vehicle isn't equipped to handle snow and ice. By planning ahead, you can make winterizing your vehicle an annual ritual in the name of safety and vehicle reliability.
*If you have a ToyotaCare (TC), Scion Service Boost, (SSB), or ToyotaCare Plus (TCP) plan, this service may be at no cost, in which case, this o er may not be applicable. Please refer to your plan for complete coverage details. See your Toyota scheduled maintenance guide for addi onal mileage-speci c recommenda ons. Toyota requires 0W-20 synthe c motor oil for some 2010 and newer models at 10,000-mile intervals. Toyota synthe c motor oil slightly higher. Up to 5 quarts oil. Installa on and labor included. Tax and shop supplies extra. Some models higher. Valid in Alaska, Idaho, Montana, Oregon, and Washington. See your local Toyota dealer for details. Please present o er when order is wri en. Not valid with any 

Service Coupon 2827

Exp. 04/30/2017

Complete Full Detail or Interior/Exterior Detail

$50 off Full Detail/$20 off Interior OR Exterior Detail OR Courtesy Loaner

Service Includes:

-Hand wash and dry exterior
-Pressure wash engine, door & trunk jambs
-Clean rims and dress tires
-Shampoo interior (includes seats, carpets and mats if applicable)*
-Clean leather and vinyl
-Clean trunk
-Clay bar paint
-Machine polish exterior paint
-Apply hand wax to paint
-Wash inside and outside windows
Courtesy loaner vehicle only eligible for Full Detail service (Not applicable on Interior or Exterior services).

*Plus tax. Additional charges may apply if pet hair removal is required. With this coupon only. Price may vary for some models.

Service Coupon 2836

Exp. 05/03/2017

Parts & Labor Bonus Coupon

*Not valid with any other offer or advertised special. Coupon must be present at time of service. Not applicable to prior purchases. Other restrictions may apply.

Service Coupon 3629

Exp. 05/03/2017

Are you the ultimate Toyota racing fan? Then you need to add this amazing color-blocked racking jacket to your collection. It features a snap front, two front pockets, and quality eye-catching embroidery. You'll be the best dressed in the stands! Black. M - XXL.

*Limited to on-hand stock.

Service Coupon 3269

Exp. 05/03/2017

Brake Pads and Rotor Special

Includes:
-Brake inspection
-Brake pad replacement and rotor resurface

*Valid only at Toyota of Seattle. Not valid with any other offer or advertised special. Coupon must be present at time of service. Offer valid on Toyota & Scion vehicles only.

Service Coupon 3652

Exp. 05/03/2017

Includes:

*Set front & rear wheel camber & toe in on applicable vehicles

*Set all specifications to achieve proper thrust & centerline angles

*Inspect steering linkage & shocks

*Check tire pressure & tire wear

*Must present offer when order is written. Cannot be combined with any other offers. Offer has no cash value. Plus tax, shop supplies, and fee (if applicable).

Service Coupon 3477

Exp. 12/31/2017

Brown Bear Car Wash Voucher

We offer a free Brown Bear Car Wash Voucher with each service you do.

Must present offer when order is written. Cannot be combined with any other offers. Offer has no cash value. Plus tax, shop supplies, and fee (if applicable).

Service Coupon 3478

Exp. 12/31/2017

IS IT TIME TO TRADE IN OR SELL YOUR CAR, TRUCK OR VAN? ASK YOUR SERVICE ADVISOR FOR DETAILS AS WE HAVE SERVICE CONSULTANTS AVAILABLE TO APPRAISE YOUR VEHICLE!